Which is the Best Stock Market Institute in Lucknow?
Teaching is an art and a way to influence others, throughout our life we have been taught by various people who have given us knowledge in various fields making us skilled. With the process of new skills taking up the centre stage teachers for them are most sought after these days. Stock Market Trading is also one of the skills where people are looking for that one person that can teach them all, from candlesticks to option trading, investing to trading, everything that is needed to be the best in the stock market. The City of Lucknow has been seeing a similar trend where more people are becoming more informed about new skills and the demand for a stock market institute is on the rise. This content is just an aim to make you realize that FinHance – Lucknow's Stock market institute and best stock market institute in the city are synonymous .Working tirelessly towards imparting the best education in the field of stock market education Finhance has carved a niche for itself and can be your choice while you think of learning about Stock Market Trading in Lucknow.
Backing up claims by reason is our trait, as you read this you will find reasons to choose FinHance as your guide to learn and excel .
Why Finhance – Lucknow's own Stock Market Institute?
Keeping in mind the need of the hour that is on point teaching and a simplified Share Market Course, we at Finhance have been devising ways to offer the hometown advantage to the people of Lucknow. The advantage is in the form of an affordable Stock Market Course to make the people here well versed with the simple concepts of finance to advanced concepts of option trading. If you are in the city and your search for Stock Market Trading in Lucknow is still on, step up to the opportunity of learning from the Best Stock Market Course educators who believe the stock market can be mastered provided you choose the Best Stock Market Course by Finhance.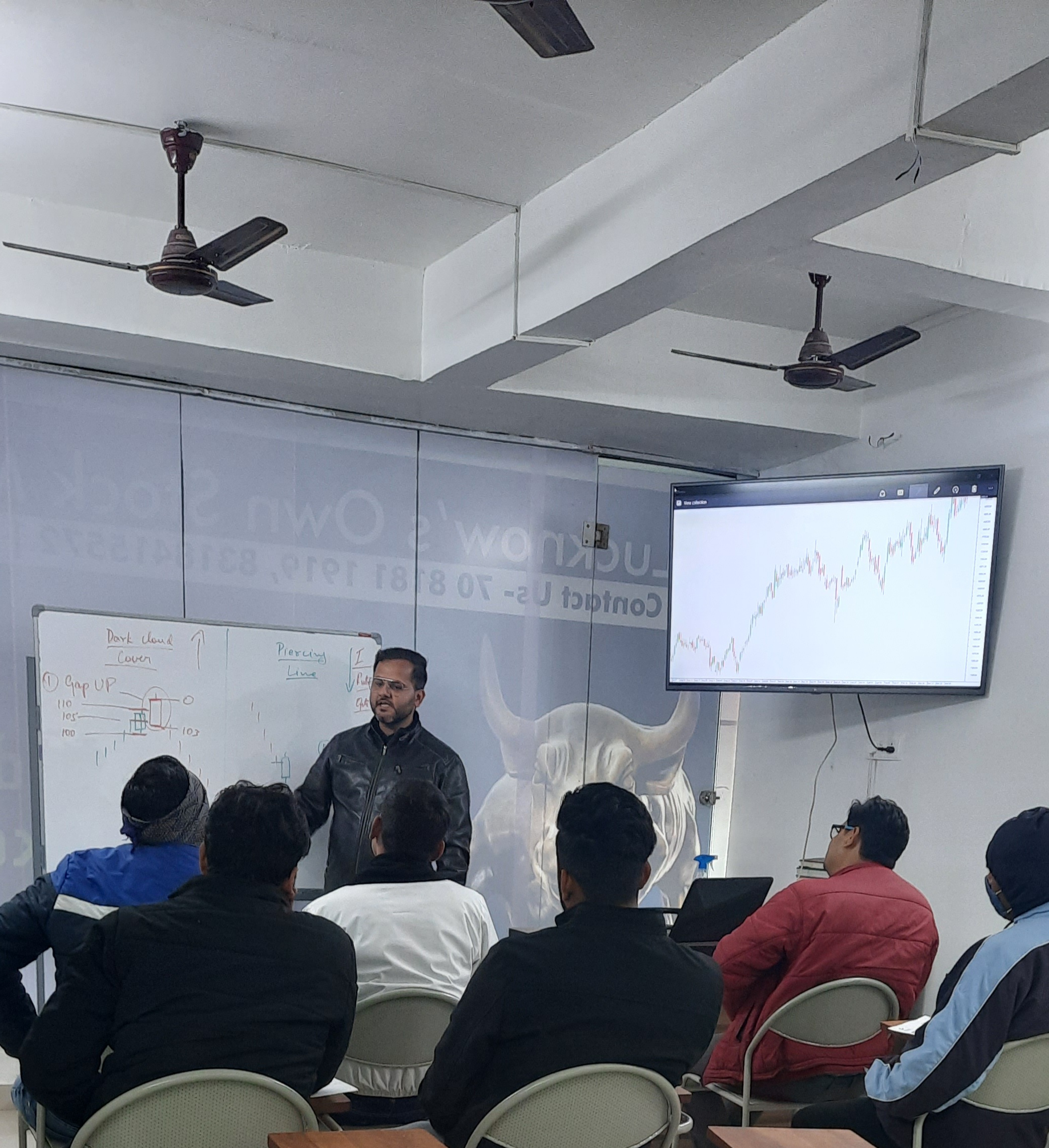 What will you learn at the of Best Stock Market Institute in Lucknow?
1. Advanced Technical Analysis-
Technical Analysis is the study of market movement through the study of charts, for the purpose of forecasting price trends. Market Charts are like that maths question we all got in our school years that confused us, we just used to sit there wondering the way out. It was when we learned the formulas for it we got through. Similarly Technical Analysis is that one tool that saves you from confusion while looking at charts, it tells you about price movement and if you are observant enough you can really hear the charts talk to you.
Sounds interesting right? Now the cherry on the cake is our market experience of Stock Market Trading which makes us say we would be providing an insight into advanced technical analysis. Common trading doubts of entry and exit, lot sizes and the right time to book profit is the key takeaway set of this segment.
2. Fundamental Analysis-
Even the most complex structures become easy to understand if you understand the basic of it. Now Fundamental Analysis being that effective tool is the one which will help you to understand the complex structure of a company and its business before you plan to invest into it. Study of the books of accounts, drawing out ratios from the financial statements, examining the past records of the company and judging how a company's management affects your investment is the sum total of Fundamental Analysis.
3. Option Trading and strategies-
Options trading is the trading of instruments that give you the right to buy or sell a specific security on a specific date at a specific price. When you buy an option, you have the right to trade the underlying asset but you're not obligated to. If you decide to do so, that's called exercising the option. It becomes necessary to assess the risks associated and the rewards attached with it . At Finhance we not only teach you the basics of option trading but also tell you how to make option trading strategies that will help you generate a decent amount of profit.
Be a Stock Market Trader, Be a part of Finhance.